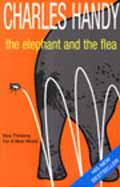 The Elephant and the Flea: Reflections of a Reluctant Capitalist
by Charles Handy

$24.95
233 pages
Harvard Business School Press
Ph: 707-537-1550
Web Site
The Elephant and the Flea:
Reflections Of A Reluctant Capitalist
by Charles Handy (Harvard Business School Press, 233 pg, $24.95).
Leading U.K. business thinker Handy is back with his most personal book yet. This time, he blends autobiography and business meditations in equal parts to create a memoir that offers thoughtful advice on pursuing a fulfilling career, the changing structure of business, and the future of capitalism.