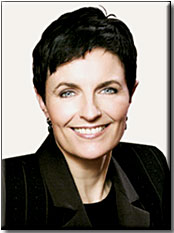 Runa Bouius
Rúna is an Icelandic entrepreneur, business consultant and trainer. Her company focuses on a specialized form of leadership development with emphasis on awakening true power and finding deeper connection. A former business leader in the cosmetic industry in Iceland for 20 years, Rúna has immersed herself in an intense process of mentorship and training in various disciplines such as wisdom traditions, energy cultivating practices, and direct teachings from Nature. She fuses those skills with her business acumen.

Workshop: Birthing the Leaders of the New Era: Awakening True Power in People and Business
Tuesday, January 29
Ballroom 2:00 pm to 4:30 pm

Stress and anxiety in management is spreading like a virus and playing havoc in dangerous ways. Studies show that motivation and passion at work has fallen drastically and is thought to be responsible for one third of all absenteeism. Numbers show that 20% of performance is effected in a negative way. Loyalty is dying and trust is weak. What might be the cause of this fast growing trend? Why are even successful and affluent professionals inwardly empty and craving something they can't quite put their finger on? What kind of power would it take to turn this around and create inspired individuals, empowered leaders and vibrant company culture?
These are some of the questions explored in this lively workshop that combines an interactive lecture with exercises.
Goal: To journey through a roadmap to deeper connection and integrated leadership.
Learning Objectives:
• Identify the main challenges in organizations today,
• Reveal human blind spots in modern life, and
• Explore five steps to true power.