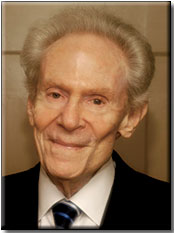 Aaron Feuerstein
Aaron Feuerstein
the third-generation president and CEO of Malden Mills, producer of the revolutionary fabric, Polartec. When a fire ravaged much of his textile factory, Feuerstein became the symbol of a socially responsible business owner who rules by his conscience. Despite overwhelming pressure to resume operations overseas, Feuerstein instead pledged to rebuild the mill at home and pay his employees during the three-month reconstruction. Through it all, Feuerstein has been steadfast in his commitment to the local worker. Since 1996, Feuerstein has received 11 Honorary Doctorate degrees.
Workshop: Lowering of American Wages Endangers the Future of Our Democracy
Sunday, January 27, 2008
Ballroom 10:45 am to 12:00 pm
Goal:
Reduction of the corporate practice of off-shoring by establishing government regulations and parameters for world trade.
Learning Objectives:
• Off-shoring should include all of the social legislation presently part of federal law: i.e. labor safety, social security, disability, outlawing of slavery, health, insurance, etc. in order for products made abroad to be imported into the USA,
• Just as U.S. patents give competitive protection to the creator of patents, any product which results from the patent must be made in the USA for the life of the patent, and
• Reduction of off-shoring will result in more security and less anxiety for American labor. This would result in a major improvement in the country's mental health.