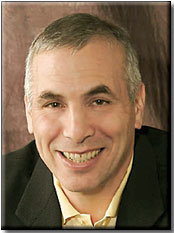 Michael Gelb
Michael Gelb
Michael is the world's leading authority on the application of genius thinking to personal and organizational development. He is a pioneer in the fields of creative thinking, accelerated learning, and innovative leadership. His publications include Body Learning: An Introduction to the Alexander Technique and Present Yourself! Captivate Your Audience with Great Presentation Skills. His best-selling audio programs include: Mind Mapping: How to Liberate Your Natural Genius, and Work Like Da Vinci: Gaining the Creative Advantage in Your Business and Career.
A former professional juggler who once performed with the Rolling Stones and Bob Dylan, Gelb introduced the idea of teaching juggling as a means to promote accelerated learning and team-building. He authored More Balls Than Hands: Juggling Your Way to Success by Learning to Love Your Mistakes.
A fourth degree black belt in the Japanese martial art of Aikido, Gelb is coauthor of Samurai Chess: Mastering Strategic Thinking Through the Martial Art of the Mind. A passionate student of the Renaissance and the nature of genius, Gelb ignited the current fascination with all things Da Vinci with How to Think Like Leonardo Da Vinci: Seven Steps to Genius Every Day. Discover Your Genius: How to Think Like History's Ten Most Revolutionary Minds, Da Vinci Decoded and The Spirit of Leonardo tap into the seven Da Vinci principles outlined in How to Think Like Leonardo Da Vinci to show readers how to cultivate spiritual intelligence.
His latest book is, Innovate Like Edison: The Success System of America's Greatest Inventor coauthored with the great-grand-niece of Thomas Edison. www.michaelgelb.com
Workshop: Create Like Leonardo/Innovate Like Edison
Saturday, January 26
New Mexico room 3:30pm-5:30pm
Thinking creatively, learning faster and leading change- these abilities are at a premium in a highly competitive global business environment. What if you could call on history's greatest genius, Leonardo da Vinci, to be your personal mentor in cultivating these highly prized elements of human capital? In this unique and inspiring program, you will learn the seven principles for thinking like Leonardo. 
The principles are:    
• Curiosita' - An insatiable quest for knowledge and continuous improvement    
• Dimostrazione - Learning from experience    
• Sensazione - Sharpening the senses    
• Sfumato - Managing ambiguity and change    
• Arte/Scienza - Whole-brain thinking