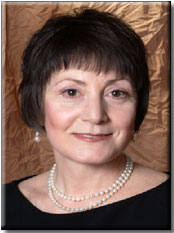 Elsie Maio
Elsie Maio has guided leaders in the Fortune 100 for 20 years, to achieve specific business goals by managing their brands strategically. She is an alumna of McKinsey and Company as well as several premier corporate identity firms. Elsie says that ten years ago, The International Conference on Business and Consciousness gave her the confidence to focus her entire business on balancing the corporate agenda.
Since 1997, she has helped CEOs prepare for what she then identified as "the coming tsunami of corporate accountability." Her firm's work also has helped clients to list successfully on the New York Stock Exchange, reposition multibillion-dollar product brands, and preserve their social values while sharpening their competitive edge. Her firm guides enlightened leaders to integrate their profit and social impact priorities to secure preference in key corporate markets.
Workshop: SoulBranding: How Authentic is Your Marketing, Really?
Since the late 1990s, the SoulBranding framework has inspired and encouraged business leaders to align corporate policy and behaviors with social values. This wealth of experience translates into a sharp lens for today's leaders who want to manage authentic organizations. Participants in this workshop will learn how to hold up the mirror to their own, and others' marketing promises as a first step toward building a healthy balance between social, and high-performance values in their company culture.
Goal: To align corporate policies and behaviors with social values.
Learning Objectives: 
• Learn how to hold yourself and others accountable to the marketing promises of your company,
• Build balance between social and high-performance values in your company, and
• Manage your organizations authentically and with integrity.