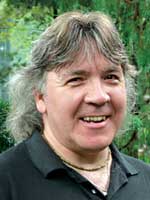 Godfrey Townsend
Godfrey Townsend
After launching his career in Las Vegas with Mitch Ryder, Spencer Davis and Joey Molland of Badfinger, Godfrey Townsend was recruited by John Entwistle of The Who for a series of international tours.
Since then, he has played with Alan Parsons, Todd Rundgren, Ann Wilson of Heart, Jack Bruce (Cream), Mark Farner, Christopher Cross and Dave Mason (Traffic). Godfrey tours constantly and performs before standing-room-only crowds around the world. He recently released a solo album titled "Easy Journey To Other Planets."
Special Evening Event: Here Comes the Sun: A Live Musical Event Exploring the Musical and Spiritual Journey of George Harrison ---Joshua Greene and Godfrey Townsend---
Monday, January 28, 2008
The Lensic 8:00 pm to 10:00 pm
George Harrison was admired for his commitment to spirituality, which he believed could improve lives and protect the planet. His post-Beatles songs reflect that conviction and are as relevant today as they were thirty years ago. Through music, visuals and commentary about his journey of self-discovery, this event honors George Harrison, his music and his principles.
Film and photo projections includes video interviews with George Harrison and images tracing his journey from childhood to India and into later life.
Live music features a concert repertoire that honors George Harrison's artistic legacy from early Beatles days and throughout the lifespan of his songwriting. Godfrey Townsend is the musician for Here Comes The Sun performances.