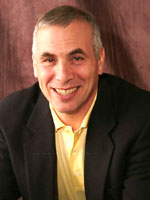 Michael Gelb

Michael is internationally recognized as a pioneer in the fields of creative thinking, accelerated learning, and innovative leadership. Gelb's publications include Body Learning: An Introduction to the Alexander Technique and Present Yourself! Captivate Your Audience with Great Presentation Skills. A professional juggler who once performed with the Rolling Stones and Bob Dylan, Gelb created the Juggling Metaphor Method. He authored More Balls Than Hands: Juggling Your Way to Success by Learning to Love Your Mistakes. He also originated the concept of synvergent thinking, expressed in Thinking for a Change: Discovering the Power to Create, Communicate, and Lead.

A fourth degree black belt in the Japanese martial art of Aikido, Gelb is coauthor of Samurai Chess: Mastering Strategic Thinking Through the Martial Art of the Mind. A passionate student of the Renaissance and the nature of genius, Gelb ignited the current fascination with all things Da Vinci with his How to Think Like Leonardo da Vinci: Seven Steps to Genius Every Day. Gelb's latest book, Da Vinci Decoded, taps into the seven Da Vincian principles outlined in How to Think Like Leonardo da Vinci to show readers how to cultivate spiritual potential.
www.michaelgelb.com

Saturday, April 22
Leonardo da Vinci: The Art and Science of Consciousness
-Michael Gelb-
Ballroom 10:45am to 12:00 noon

In this energizing and transforming experience, Michael guides you to experience the vivifying power of Leonardo's archetype in your life now. Learn the seven principles for thinking like Leonardo and then apply each one to developing your creative abilities and sharpening your awareness. You will be inspired and guided to apply the universal wisdom of the original "Uomo Universale" (Universal Man) to your most important professional, personal and spiritual challenges. In a supreme example of thinking ahead, Leonardo invented the parachute before anyone could fly. Imagine what dreams you might realize with that kind of thinking!

*Reframe and begin solving your most important personal and professional problems,
*Integrate body, mind and spirit for greater well-being,
*Align your personal sense of purpose, values and mission with your everyday routine, habits and behavior, and
*Experience a personal spiritual renaissance.

---