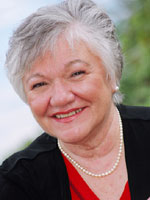 Joyce Hawkes, PhD
A productive research biophysicist for more than 15 years, Joyce Hawkes published 50 scientific papers and was elected a Fellow in the American Association for the Advancement of Science for her scientific contributions in the field of ultra high speed laser effects on cells. Following a near-death-experience, she changed careers and began an extensive study of spiritual and healing traditions. Embarking on a three month sojourn in the Philippines to work with a native healer, she began her exploration of SE Asian healing traditions. Joyce continued her study and work in Eastern philosophy and practice with a month-long stay in south India and six trips to Bali, immersing herself in learning from two native shamans. Her current book is From Soul to Cell. Spiritual Bridges to Healing.
Sunday, April 23
Engaging Soul and Cell as Resources for Healing
-Joyce Hawkes-
Ballroom 4:30pm to 5:30pm

Each one of us has 100 trillion cells working together, healing and renewing our body constantly. Every second, in the time to blink your eye, 3 million new red blood cells enter your blood stream, replacing those that have worn out and died. Our bodies are quietly amazing! See what cells look like when magnified 30,000 times through the incredible tool of the electron microscope. In conjunction with these images, learn how to engage your consciousness to support your body for daily optimal health. Experience simple spiritual practices that teach you how to focus energy at the cellular level to assist in healing — bridging from soul to cell. Utilizing lecture, visuals, case studies, and experiential elements, Dr. Hawkes will lead you to a new level of appreciation for your body's capacity for vitality, and the significant role your own spiritual awareness can provide.
Goal: Provide visual information about the ultrastructure of cells as viewed through the electron microscope to you to utilize the images in
deepening healing experiences for their body.
Learning Objectives:
*Create new appreciation for the complexity and intricacy of the body.
*Provide experience in interactive imagery for participants to extend stress
reduction in a deeper ways with enhanced effectiveness.
*Explore healing modalities that include the information, action, power, and
communication systems already present in every cell.
---