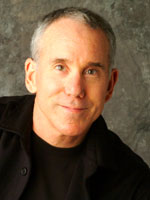 Dan Millman

Dan is a former world-champion athlete, Stanford University coach, and Oberlin college professor. His travels around the world, studying with mentors and masters of yogas, martial arts, and other disciplines led to a phenomenal writing career: His best selling books, including Way of the Peaceful Warrior, The Life You Were Born to Live, Everyday Enlightenment, No Ordinary Moments, The Laws of Spirit, and Living on Purpose, have touched millions of readers in 29 languages.

Dan's books are required reading at universities as well as corporations. His seminars and trainings have influenced men and women from all walks of life, including leaders in the fields of health, psychology, education, business, politics, entertainment, sports, and the arts.

A motion picture based on his first book will soon be released. His newest book is The Journeys of Socrates.
www.peacefulwarrior.com
www.danmillman.com

Monday, April 24
Science, Mysticism and Universal Law
-Dan Millman-
Ballroom 8:45am - 10:00am

Amidst the confusion, relativism, moralistic notions and fundamentalist dogmas in the world today, both scientists and mystics seek to find the bedrock of reality and laws that govern our universe and ourselves. The aim of this presentation is to bring new clarity to the substance of spiritual laws and their practical application in our everyday lives.

Learning Objectives:
*Learn qualities of spiritual law; how it differs from principles, proverbs, or accepted aphorisms,
*Learn to shift both perspectives and action by applying specific laws, and
*Know how these laws serve as keys to every facet of our lives, from work to health to relationships. In addition, Dan will bring reconciliation and balance to the illusory conflict between "faith and reason," "science and mysticism" with an appreciative perspective of both sides of our brain and our world.

---
Monday, April 24
The Direct Experience and Uses of Spiritual Law
-Dan Millman-
Ballroom 10:30am to noon
It has been said that we don't know how we think until we see what we do. This direct and experiential program expands upon Dan's Keynote address on Science, Mysticism, and Universal Law to provide enjoyable, practical, eye-opening and mind expanding exercises to "seed" or instill spiritual laws into our bodies and lives. Laws addressed will include Balance, Process, Faith, Presence, Surrender, Unity, and others.
Learning Objectives:
*Reconcile the Realist and Idealist schools of thought,
*Understand the different truths that operate in the two levels of reality, and
*Leave with greater trust and faith in the process of our lives unfolding.
---