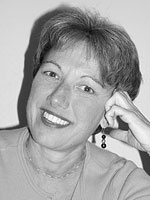 Christine Page, MD

Dr. Christine Page is an internationally respected pioneer in health care and mysticism. Early in her life, she was introduced to many esoteric teachings and traditional healing methods. Her deep understanding of the complexity of our existence has been enhanced by over 25 years as a health care practitioner. Now she sees the transformation occurring on a much wider stage and through her books and teachings, offers simple ways to remember our purpose while riding the waves of change.

She has written five books including Navigating the Soul's Journey, Frontiers of Health, Beyond the Obvious and her latest Spiritual Alchemy. Her regular appearances in the media enhance her message which aims to awaken the Inner Healer and helps individuals live their truth by following their intuition.
www.christinepage.com

Monday, April 24
The Emerging Feminine: From Chaos to Grace
-Christine Page-
Ballroom 10:30 am to 12:00 noon

As we enter a crucial time in our planet's history, it's clear the masculine and feminine aspects of the self are seeking a healthier relationship if we're not to become trapped within stagnant creations of our own thoughts. This yearning, present within both men and women, asks the virgin to offer a fresh, unbiased playing field; asks the mother for growth and creativity; and asks the crone for opportunities to change form into wisdom.

However, here is the challenge. These three aspects of the feminine demand we freely enter the realms of vulnerability, chaos and death, and then we can witness a birth of consciousness which will influence many generations to come.

Learning objectives:
*Learn the significance of the balance between the masculine and feminine,
*Discover qualities of the masculine and feminine within all,
*Describe ways to enhance the grace and wisdom the crone offers, and
*Identify the benefits of allowing the virgin, mother, crone into our daily lives.

---
Wednesday, April 26
The Emerald Tablet: An Alchemical Handbook for These Intriguing Times
- Christine Page -
Ballroom 1:30pm - 3:00pm, 3:30pm - 4:30pm

The myth of the Emerald tablet goes way back in time, reappearing at critical times in our history. Associated with Thoth, the Egyptian truth bringer and god of learning and hidden knowledge, the messages were invaluable to many great spiritual leaders and seen as the "bible" for any who called themselves alchemists.

At this intriguing time in history the messages written upon the tablet are as important as ever if we are to achieve the move to the next dimension both individually and globally. Come and step into these eternal teachings and see how you can contribute fully to both creating your own sou's reality as well as strengthening the grid of light consciousness around the world.

Learning objectives:
*Describe the source and importance of the Emerald Tablet,
*List the seven stages of the alchemical process,
*Identify the meaning of the one thing and the one mind, and
*Describe practical uses of these alchemical processes.

---