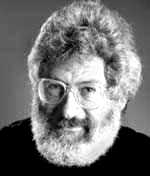 Ralph Abraham, PhD

Ralph is Professor of Mathematics at the University of California, and is the author of over 20 books including Chaos Gaia Eros, The Web Empowerment Book, Chaos in Discrete Dynamical Systems, The Evolutionary Mind, The Chaos Avant-garde and Bolts from the Blue.
He has been active on the research frontier of dynamics in mathematics and has been a consultant on chaos theory and its applications in numerous fields (medical physiology, ecology, mathematical economics, psychotherapy, etc.) and is editor for the journals World Futures and the International Journal of Bifurcations and Chaos.
He founded the Visual Math Institute with its popular website and has performed works of visual and aural mathematics and music.
www.ralph-abraham.org
Workshop:
Saturday, April 23 -- 2:00 pm - 3:00 pm
Where Have All the Angels Gone?
Ralph Abraham
Ballroom
Many people are now seeking to connect or reconnect to a spiritual tradition. A feeling of disconnection is sometimes related to the rise of modern science to the status of a religion. In fact, many of us are missing the richness of the premodern world view --including souls, spiritual fields, angels and intelligences -- that was lost in the paradigm shift at the end of the Renaissance. In this illustrated talk we will recall the world views before and after this shift, and reveal the step-by-step deflation from metaphysics to physics in the work of Kepler and Galileo around the year 1600. Although contemporary, Kepler was premodern, and Galileo modern. New mathematics (cartesian geometry) banished the angels then, and new mathematics (chaos and complexity) may help bring them back now.
The goal of this exercise in the history of science and mathematics is to facilitate the recovery of spiritual meaning in our lives, by understanding the demise of the perennial philosophy as a historical accident in the 17th century. For, in fact, we will see that modern science and ancient spirituality are compatible.
One will take away from this program a clearer understanding of:
the Western Esoteric Tradition
the meaning of soul and spirit, then and now
the coevolution of mathematics and culture, and
the competition between dogma and change