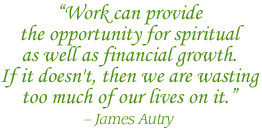 Business Spirit Journal
offers information, inspiration and resources for anyone wanting to broaden the definition of "bottom line." After all, for most people, half of our waking hours are spent at work. Our audience ranges from CEOs of multinational corporations to entrepreneurs, consultants and small business people to workers at all levels

in other words, anyone who works.

Every issue provides cutting-edge articles to enrich and nourish consciousness in the workplace. In addition, we feature:


The Archive, which contains our ever-growing treasure trove of articles collected from all of our previous issues. Stop by frequently!

Visit the Reviews section to stay abreast of the hottest new books, tapes and videos in the expanding field of consciousness in business.

The Classifieds section, which lists people, businesses, services and goods available to serve you on your journey.

Walk Your Talk

---

By Joan Marques
Read It!

---

The Five Values of Shamans
How to Apply Them to
Personal Power in Business

---

By José Luis Stevens, PhD

Read It!

---

The Ethical Vacuum and Workplace Abuse

---

by Cedric Johnson, PhD

Read It!

---

Practical Peacemaking


---

Douglas Noll, Esq.

Read It!

---

Bringing the Soul Into the Workplace
A Report on the International Conference on Business and Consciousness

---

By Naomi Rose
Read It!