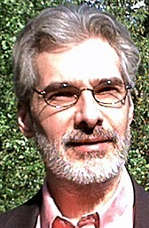 Lee Baumann, MD

Lee is a doctor, medical consultant and author of God at the Speed of Light: The Melding of Science and Spirituality and Window to God. God at the Speed of Light was cited by Joan of Arcadia creator Barbara Hall as one of the physics books that inspired her to produce this hit TV series. Recently, God at the Speed of Light was featured in the PAX TV special, The Search for Heaven. Lee has presented throughout the US and Australia on the intimate association between Light and God.
www.writers.net/writers/16971
www.near-death.com/physics.html
Workshop:
Sunday, April 24 -- 10:30 am to 12:00 pm
The Physics of Light's Consciousness and Its Earthly Ramifications
Lee Baumann
Ballroom
Science experiments prove that at Light speed, time stops. The ramifications of this premise are profound — that is, for Light, past = present = future. Thus, Light may theoretically be everywhere in the Universe at once (omnipresence). Any entity that can be everywhere in the universe at once — without respect to time — also knows everything that has ever happened in the past, is happening now and will happen in the future — hence, omniscience. Similarly, the physics technique of "renormalization" offers evidence that Light has infinite energy (or omnipotence). Other experiments show that Light can, in addition, anticipate its surroundings — what some physicists describe as "consciousness." These are all qualities identical to descriptions of God —and an explanation for human consciousness.