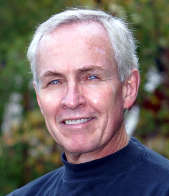 Mark Macy, PhD

Mark is a pioneer in ITC research (instrumental transcommunication, the use of technology to get in touch with the other side) and author of Miracles in the Storm and Conversations Beyond the Light and several other books. He has received many messages and pictures directly from his spirit friends through the equipment in his lab, including telephones, radios, and a special photographic process that allows him to capture clear spirit faces on Polaroid film.
Workshop:
Saturday, April 23 -- 2:00 pm to 3:00 pm
The Miraculous Side of Instrumental Transcommunication
— Mark Macy —
Southwest Ballroom
Instrumental transcommunication (ITC) is a worldwide phenomenon in which spirit beings have been contacting humans through electronic and photographic equipment. In this workshop, participants will try to get clear faces of spirit guides and departed loved ones on film. We will also hear actual voices of angels, nature spirits and departed colleagues that have come through phones and radios, and we'll see images from the spirit worlds brought into our world directly through TVs, computers and cameras. We explore the principles of resonance that makes ITC possible, and will do exercises to foster resonance.