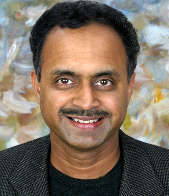 Kumar Nochur, PhD

Kumar is a writer, entrepreneur and management educator. As an independent scholar, his interests include Tantra, the identity of the Soma of the Vedas, and Hindu theories of consciousness and self-realization. He has written about and supported efforts to preserve Vedic chanting traditions that date back over four millenia. He has lectured at Harvard and other forums on various aspects of Hinduism. As a management educator, Dr. Nochur teaches seminars on knowledge management, innovation and technology management. He is also the inventor of ThoughtFlow, a patented software product for goal-aligned decision making.
Workshop:
Monday, April 25 -- 10:30 am - 12:00 pm
Consciousness — The Ultimate Reality: Insights from Hindu Tradition
Kumar Nochur, PhD
Ballroom

Various Hindu traditions, such as Vedanta, Tantra and Yoga, maintain that consciousness is the substratum of all human and cosmic realities and experiences. Consciousness is the underlying field in which our worlds of experience are enacted, and from which everything has arisen. The real nature of consciousness has to be experientially and directly realized — it cannot be grasped intellectually, since consciousness is not an object amenable to the traditional mind-bound means of knowledge!
In this session, an integrated view of Hindu views on consciousness will be presented, followed by a discussion of how this approach can help us break the impasse that psychology and science have reached in understanding the nature of consciousness.
Goal: to convey the essence of Hindu theories on the nature of consciousness.
Objectives
understand the meaning of Brahman, the ultimate reality which is identical with Sat (Being), Chit (Consciousness), and Ananda (Bliss)
learn how consciousness manifests as mind, life, and matter
become aware of the limits of scientific, reductionist approaches to learning about consciousness