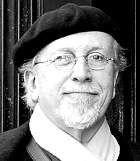 Jack Sarfatti, PhD Physics

Jack's work explores the leading theories of mind-matter physics as he examines hyperspace, time travel, remote viewing , contact with higher intelligence, and more. He was a research fellow at the University of London with David Bohm , scientist at Tech/Ops, Ford Philco Aeronutronics and author of Destiny Matrix, Space-Time and Beyond and Super Cosmos. He has appeared in Star Trek IV: The Voyage Home special collector's edition, Time-Travel: The Art of the Possible. Jack has been CEO of a scientific research foundation since 1995 and consults for the US Intelligence Community on technological surprise from new physics breakthroughs.
Workshop:
Sunday, April 24 --10:30am - 12:00pm
Super Cosmos and Destiny Matrix: Parallel Universes Next Door in The Hyperspace Matrix, As Above, So Below
Jack Sarfatti, PhD
Ballroom

Decoding the Qabalistic Cipher of Genesis from the stormy Dirac Sea to the calm Higgs Ocean with the emergence of Einstein's Gravity and Dark Energy. In The Beginning was The Word: IT FROM BIT — the creation of matter from the cosmic mind, UFO flying saucer, time travel to the past, paranormal remote viewing and contact with higher intelligence, human and artificial. Metric engineering the fabric of spacetime as our only chance to evade the imminent destruction of all life on Earth in Our Final Hour from sudden global warming, poisoning of the biosphere, collision with an asteroid, bio and nuclear terrorism and other likely catastrophic events in the clash of Christian and Muslim cultures.
Goal: Get the big picture: How the universe came into being and becoming. Learning objectives:
Topics
the basic discoveries of precision cosmology since 1998 — the Second Copernican Revolution shattering the Old Paradigm: WMAP, Type 1a Super Novae, Gravity lensing, Galactic Halo, NASA Space Probe Pioneer 10/11, Anomaly beyond our Solar System, Warp Drive, Star Gate Time Machines
Mind-Matter Physics in David Bohm's Undivided Universe. Both IT FROM BIT and BIT FROM IT as the spontaneous emergence of inner consciousness, Presponse and Remote Viewing, Q: the direct manipulation of space-time by super-consciousness? (Colonel Phillip J. Corso "The Day After Roswell"," Uri Geller, Ingo Swann & CIA Mind Control Experiments at SRI in the 1970s)
Our Final Hour: Warp, Wormhole and WMD. What are our choices to avoid destruction of the planet in the next few years?