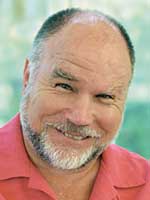 Guy Finley
Guy Finley
Guy's encouraging and accessible message is one of the true bright lights in our world today. His ideas cut straight to the heart of our most important issues- relationships, success, stress peace, happiness, freedom- and lead the way to a highr life. Guy is the author of Seeker's Guide to Self-Freedom, The Secret of Letting Go, Freedom From the Ties That Bind, Seven Characteristics of Higher Consciousness, Secret Teachings of the Sacred Testaments and 25 books and audio programs that have sold over a million copies. In addition, he has presented over 4,000 self-realization seminars to thousands of students throughout America and Europe over the past 25 years.
Guy Finley's website: www.guyfinley.com
Keynote: To Touch the Timeless Mind:
Make the Million-Year Leap in Human Consciousness:
Monday, March 31 - 8:45am to 10:00am

The only true solution to any painful problem in life is to outgrow the level of self responsibility for it. Within us dwells a timeless mind, a compassionate Character that cannot be made a captive of any dark condition any more than a sunbeam can be caught in a bottle. Our conscious relationship with this timeless intelligence empowers us to dismiss what would darken our path before it begins. Goal: Awaken to a timeless order of our being that's already free of fear and incapable of being unkind. Learning Objectives: • Discover and dismiss the level of mind that creates fear, • Make bold new choices that end inner-conflict forever, and • Call on a new kind of courage to make real changes in ourselves.
Workshop: The Essential Laws of Fearless Living
The Power to Never Feel Powerless Again
Monday, March 31 - 10:30am to 12 noon

We are meant to know the boundless authority and effortless confidence that comes with realizing a life no longer bound by conflict or fear. Our great, unclaimed gift of higher consciousness is to be able to transform any dark state into a healing power. Awaken within yourself a timeless intelligence that is uncluttered, compassionate, and in effortless command of everything around it.
Quote:
"The true measure of success in life is not determined by what we have acquired, but rather by the degree to which we have put our fears behind us." – Guy Finley

Goal:
Realize a world within you beyond the reach of any troubled thought or feeling.
Learning Objectives:
• Learn the secret of having life happen just the way you want it to,
• Dismiss the eight false beliefs at the root of fearful living, and
• Bring spontaneity and freshness back into your relationships at home and at work.