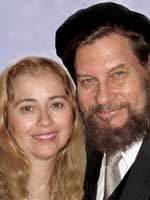 J.J. Hurtak and Desiree Hurtak
J.J. Hurtak PhD, PhD and Desiree Hurtak, PhD
Dr. Hurtak is a social scientist and futurist. He is author of The Book of Knowledge: The Keys of Enoch and his most recent book coauthored with Russell Targ entitled The End of Suffering. He is President of The Academy for Future Science which is an international organization that works to bring cooperation between scientific and spiritual pathways through a positive dialogue on social projects. He is also an archeologist who has researched most of the ancient cultures throughout the world. He has won fourteen international film awards for his graphic films and animation on consciousness exploration entitled Merkabah, Initiation and Light Body.
Desiree Hurtak is a social scientist, futurist, film producer and author of several books including Pistis Sophia: Text and Commentary which she co-wrote with her husband and which brings out the importance of restoring the balance of our female -male nature for consciousness growth. With a special interest in indigenous cultures, she has also participated in the film documentation of cultures worldwide to preserve their heritage. This can be seem in the award winning graphic film, The Light Body and in Initiation which takes the initiate through the Great Pyramid at Giza. To this end, she has also studied and written on the philosophies of ancient Egypt and Meso-america. Desiree believes understanding the ancient concepts of nature, the mind and the earth are crucial for us at this important time as we make our own evolutionary quantum leap.
Workshop: Higher Consciousness and Limitless Mind
Saturday, March 29 - 3:30-5:30

It can be argued that the whole of the universe may be contained in every part. Understanding our interconnectedness releases us from our limitations and makes us part of the greater totality.

In this we find there exists a greater consciousness network we can explore. Through this network, we gain access to information around the world and into different realms of understanding.
As we begin to start the process of consciousness interconnectedness, we discover that our minds are omnidirectional and we understand how our personal transformation can open us up to new potentials of human creativity. Activating this greater process of discovery, we also begin to release our limitations and work towards a greater interplay of higher values and global concerns.

Goal:
To experience the subtle realms of consciousness through the release of mental 3-D entanglement and introduce new ways of seeing how the mind works within a greater consciousness network.
Learning Objectives:
• To learn how to use a new vocabulary to elevate your thought-forms,
• To see your mind as a small microcosm reaching out into the local environment through the subtle currents and fields of energy,
• To re-identify yourself as a fully conscious being by exploring the spiritual and human sciences.
Workshop: A Journey through Consciousness
Wednesday, April 2
La Terraza Room 10:45 - 12:00
Using our video, The Light Body, a graphical journey to the sacred places of the earth, we will experience past, present and future and how we can expand our place in this space-time. In addition, we will discuss how to enhance our consciousness outreach and realize that our physical form is only a manifestation of our higher Light Presence.
Goals: To explore and learn how to enhance and expand your consciousness.
Learning Objectives:
•To understand our relationship to matter-energy,
•To experience a mind-reach reality and travel, via remote viewing, to any place on the planet, and
•To learn techniques that allow you to move beyond the local space of the "I" into understanding the "We" and your connection to a universal consciousness time-space.