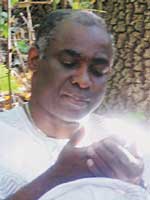 Onye Onyemaechi
Onye Onyemaechi, MBA
Internationally known for his healing, teaching and music, Onye guides individuals to a deeper understanding of their Self through the Grace of God. He brings the soul of African Culture to create and teach a blend of the best of traditional culture and modern life styles to individuals, organizations and the world. Onye is recognized as a pioneer in using music, rhythms and dance to bring diverse communities together and as a tool for personal and societal healing. He is a celebrated recording artist, performer, producer and composer.
Onye Onyemaechi's website: www.ancientministries.org
Workshop: The Rhythms of Spiritual Healing
Tuesday, April 1 - 2:00 – 3:30pm, 4:00 – 5:00pm
Discover how spiritual healing practices, applied rhythm, and dance awaken clarity, power and new possibilities for a more joyful life. Reclaim the lost connection to soul, the wisdom of the heart, and use your understanding to overcome life challenges, impasses and fears. Through the grace of this work, insights awaken, hearts open, spirits expand, and new and richer possibilities appear.

In this high-energy workshop, Onye will introduce you to African-based, Christ-centered spiritual healing practices while showing you how to consciously seek out the sublime moment to moment, inviting God's closeness and love into everyday life. You'll experience the effectiveness of group prayer, feel the joyous pulse of ecstatic, ancient drum rhythms, and experience the extraordinary transforming power of focused group work. Onye, an African Christian mystic who spends hours each day in prayer, will tune into the needs of individuals in the group, masterfully adapting the rhythmic patterns and sound frequencies to create just the right energy to stimulate the particular kind of healing each individual needs. He is able to evoke palpable spiritual presence—and the unfoldment of grace for participants—through his attunement to the Holy Spirit.

You will learn how to pray to uplift yourself, clearing out sadness and overcoming fear. You will also learn how to apply prayer effectively for the healing of specific conditions such as depression. Discover how to combine prayer, music, and movement to restore balance and all-around vibrant health. Experience the power of high spiritual frequencies and spiritually-applied percussion to clear through unproductive thinking patterns and crystallize new insights that can bring effective solutions to old problems.

The workshop is terrific for individuals who are seeking spiritual community, and also for healing professionals, caregivers, and other family members who are looking for additional resources they can bring to their clients, patients and kin.

Goal: To integrate ancient wisdom of spiritual healing practices into contemporary life. To use a comprehensive approach to love and forgiveness that stimulates healing at all levels of being, and restores health and longevity

Learning Objectives:
• To learn simple and effective prayer techniques,
• To discover the spiritual and healing components of rhythms and trance states, and how these influence everyday life, and
• To become acquainted with an African perspective on healing through prayer and rhythm.
In this workshop, we will draw upon our collective wisdom, share our stories, create community and a communal sound, and extend love and kindness toward each other and the world.
Note: Please arrive 15 minutes prior to workshop for centering. Workshop will begin on time. As a matter of respect for attendees, once the door is closed, no one will be allowed to enter. Thank you.
Evening Presentation: The Village Rhythm Experience
— Onye Onyemaechi and friends —
Monday, March 31 - 8:00pm to 10:00pm
Feel the joyous pulse of hypnotic rhythms, the spirit of drumming, singing and dancing with this African master drummer, performer and recording artist. This participatory event promotes physical, mental and emotional health, self-expression, and community building.