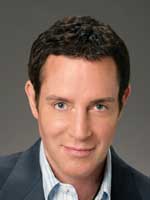 Eric Pearl
Eric Pearl, DC
Internationally recognized healer Eric Pearl has appeared on countless television programs in the US and around the world and spoken by invitation at the United Nations. As a doctor, Eric ran a highly successful chiropractic practice for 12 years when one day patients began reporting that they felt his hands on them even though he hadn't physically touched them. For the first couple of months, his palms blistered and bled. Patients soon reported receiving miraculous healings from cancers, AIDS-related diseases, cerebral palsy, chronic fatigue syndrome, birth disfigurements and other serious afflictions. All this occurred when Eric simply held his hands near them. To this day, it continues.
His patients' healings have been documented in six books to date including Eric's own The Reconnection: Heal Others, Heal Yourself.
Eric elicits great interest from top doctors and medical researchers at hospitals and universities worldwide. These include Jackson Memorial Hospital, UCLA, Cedars-Sinai, VA Hospital, University of Minnesota, University of Miami Medical School and the University of Arizona, where he addressed physicians at the request of Dr. Andrew Weil and where new research programs are currently underway under the guidance of such renowned research scientists as Gary Schwartz, PhD and others.
Eric travels the globe bringing light and information of Reconnective Healing onto the planet. He teaches other how to activate and utilize this amazing, all inclusive spectrum of healing frequencies that allow us to completely transcend healing technique and access a level of healing beyond energy healing, beyond anything that we've been able to access prior to now. To date, he has taught nearly 30,000 Reconnective Healing Practitioners in more than 50 countries creating a new generation of healers world wide.
Workshop: Light and Information: Beyond Energy Healing
Tuesday, April 1 - 2:00pm to 3:30pm, 4:00pm to 5:30pm
Find out what's baffling the medical community. Discover why hospitals and universities around the globe are investing time and money in an attempt to explain these healings, and how you, too, can master this extraordinary work! Eric will discuss the remarkable story of how this new, all-inclusive healing spectrum of energy, light and information – Reconnective Healing – was discovered. He'll discuss the research behind the work, the quantum theory that supports it, and the role that light and information plays in the healing process. We'll learn how we can now evolve beyond energy healing, access and become that light and information, and allow others to receive a more truly comprehensive level of healing in our presence.
Eric will give live demonstrations of the healings and Q & A, time permitting.
Goal: Participants will gain an understanding of Reconnective Healing philosophy.
Learning Objectives:
• Review some of the most current research supporting vibrational medicine and gain an understanding of enhanced consciousness in a healthy body and the role that consciousness plays in healing with a focus on information transmission through the body carried in frequency – looking at the potential dynamic of our DNA as the software for our brain, our brain as our computer/hardware, and the consciousness and reality of healing as what we access through this system in greater and greater ways.
• Be attuned to carrying these new frequencies of healing to effect healing in oneself and others. You will gain insight into how the way we see ourselves affects what we are able to bring to others – bringing our actions out of the fear-based and into the love-based.
• Learn how everything thing you say, do and think has ripple effects throughout the community as well as the universe and affects those coming to see you and considering coming to see you. When you alter an electron in one part of the universe, it affects an electron in another part of the universe.
• Gain an understanding of how everything, including your practice, is a cycle, a circle, as is Life itself, and so we come back to Continue Doing What You are Doing. As healers, we function on and as a continuum of energy, light and information. The universal healer will always serve as a catalyst whose very presence allows for the removal of interference and thus allows the power that made the body to heal the body.