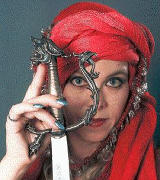 Titanya Dahlin

Titanya's spirit is embodied by her array of multi-dimensional talents. A unique and rising star, she is a world class Middle Eastern dancer and instructor, a professional actress, and is the director of her own performing arts company. She writes and produces acclaimed one-woman productions, such as Scheherazade -The Veil Behind the Blade and The Transcendance of Inanna, which have been performed since 1993. Titanya also assists holistic health pioneer, Donna Eden, in her international workshops with her unique and original energy dance movement classes. Titanya offers dance and empowerment workshops in nature.
Evening Event:
Tuesday, April 26 -- 8:00 pm to 10:00 pm
Love is the Dancer at the Feast
— Titanya Dahlin —
Ballroom
Transform yourself towards a delicious awareness of consciousness while experiencing a journey of mesmerizing Middle Eastern dance that interweaves with sumptuous Sufi poetry, luscious love-connecting stories and music to stir your soul. The presentation follows with open dance and mingling guaranteed to be the culmination of an evening that you wont forget. For extra fun, come in Arabian Night costumed finery!