The Seventh International Conference on
Sacred Sexuality
January 22 - 26, 2010 Santa Fe, New Mexico, USA
2 for 1 Special!
When you register for this event, you are automatically entitled to attend both events: The International Conference on Sacred Sexuality and The International Conference on
Shamanism
at
NO EXTRA CHARGE!
Both events happen concurrently and at the same location. Your badge allows you to attend both events at both conferences automatically!
The Seventh International Conference on Sacred Sexuality will be held on January 22 - 26, 2010 in beautiful Santa Fe, New Mexico, USA. This conference offers a wonderful opportunity to learn how to integrate sex and spirit, to lift your relationships to new levels of intimacy and pleasure and turn love-making into a spiritual and devotional practice.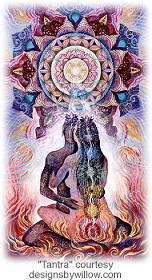 This conference examines the major cultural split in our collective psyche in regard to sexuality, love and relationship. We are indoctrinated early in our lives by religious and cultural taboos that make us feel ashamed
of our sexual nature, yet the media constantly bombards us with sexual imagery. With conscious intention, we can return to a natural sensuality free from cultural inhibitions.
It is our birthright as functional and healthy human beings to experience the ecstasy of sexual union with another, which can be one of the most exquisite of experiences.

Registration for this event also entitles you to attend The International Conference on Shamanismheld concurrently with The International Conference on Sacred Sexuality at NO EXTRA CHARGE.

Our host facility for this amazing event is the Hilton Buffalo Thunder Resort. Please click here for details
Register now and reserve your seat with special early discount rates.