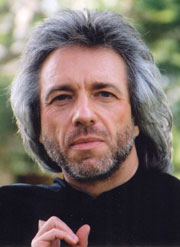 Gregg Braden
Gregg Braden
Gregg Braden is a best-selling author, a former Senior Computer Systems Designer, computer geologist, and Technical Operations Manager. For over 20 years he has searched the remote monasteries of Egypt, Peru, and Tibet for the life-giving secrets that were encoded in the language of our most cherished traditions. His work has led to such pioneering books as The God Code, The Divine Matrix, The Spontaneous Healing of Belief and his newest, Fractal Time. Gregg's work is published in 17 languages and 27 countries and shows beyond any reasonable doubt that the key to our future lies in the wisdom of our past.
Special Evening Event: Fractal Time: The Secret of 2012 And A New World Age
Tuesday, March 31 - 8:00 pm to 10:00 pm

Fact: December 21st of the year 2012 signals the end of a long and mysterious cycle of time—a great World Age that began 5,125 years ago.

Fact: World Age endings in the past have triggered cataclysmic shifts that changed the face of the Earth and altered entire civilizations.
The predictions for 2012, and what follows, range from an era of chaos and destruction to a thousand years of peace and cooperation. What does 2012 mean for us today? The answer lives as the message coded into an ancient map of time.

Join Gregg for this multi-media presentation as he merges the modern discoveries of nature's patterns (fractals) with the ancient view of a cyclic universe. The result is a powerful model of time—fractal time—and a realistic window into what we can expect for the mysterious year 2012, and beyond. It's these understandings that guide us away from the destructive choices that we've made in the past. They also show the way to the greatest possibilities of our lives.
Goal: Through easy to understand science, to show that the key to our future lies in the wisdom of our past.
Learning Objectives:
To discover the "hot dates" that hold the greatest threats of war, and the greatest opportunities for peace,

To learn how each cycle carries a window of opportunity—a choice point—that allows us to select a new outcome for the returning pattern, and
To understand what the 1999 ice cores from Antarctica reveal about past cycles of climate, global warming, Earth's protective magnetic fields, and what these things mean for us today.