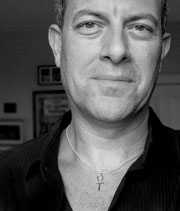 Freddy Silva
Freddy Silva
Freddy Silva is one of the world's leading experts on crop circles and sacred sites, and a leading researcher into the interaction between temples and consciousness. He is best-selling author of Secrets in the Fields, and Director of the documentaries Templemaking, Stairways To Heaven: The Practical Magic Of Sacred Space, and In The Footsteps Of Isis.
He is a life-long student of Earth Mysteries and ancient systems of knowledge, and lectures internationally. He has made keynote presentations at the International Society For The Study Of Subtle Energies & Energy Medicine, in addition to appearances on The History Channel, Discovery Channel, BBC, numerous video documentaries and international radio shows.
Recently described by the CEO of Universal Light Expo as "perhaps the best metaphysical speaker in the world right now."

www.invisibletemple.com www.cropcirclesecrets.org
Evening Event: Invisible Temples: Ancient Wisdom For Modern Lives
Saturday, March 28 - 8:00 pm to 10:00 pm

Stonehenge, pyramids, gothic cathedrals. We tend to see such temples as solid, physical structures. But behind their façades lie a combination of harmonics and subtle forces that profoundly effect your health and state of awareness. Interestingly, the elements that make sacred sites what they are have no expiry date, and with some understanding these principles can be applied today by anyone, wherever they happen to live. This evening you will be introduced to the Seven Principles of Templemaking, what they do for you and to you, and how you can harness these creative forces that empower you to fulfill your purpose.
Workshop: Orbs, Crop Circles and Sacred Sites: The Manifestation of Soul?
Sunday, March 29 - 2:00pm – 4:00pm
Humanity has forever searched for an intimate connection with Spirit. In ancient times our ancestors built colossal monuments for honoring and communicating with the invisible, and their efforts still stand as testament to a perfect craft. But lately the invisible seems to be manifesting across the Earth. In recent years, the phenomenon of orbs and other luminosities, captured on cameras around the world, has raised intriguing debate on the origin of angels, ET contact, even the human soul. Such phenomena is coinciding with the appearance of new temples in the fields of 29 countries— the crop circles— which bear the same spiritual technology that is encoded in ancient sacred sites. For indeed the crop circles, just as pyramids, cathedrals, standing stones and other pagan sacred sites are revealing a legacy left to us by our ancestors, and if you know where to stand, you can connect with them.

You'll see how all temples and genuine crop circles are strategically placed at those special points along the Earth— the interstellar conveyor belts— locations where information can be received and coded. Freddy shares his experiments in Luxor, Edfu and Abydos temples that vectored orbs; how Egyptian altars, crop circles and the human soul are linked via resonance; how orbs may be expression of one's own soul; and how these forms manifest as "the tall ones" from our ancient history.
Goal: To understand our connection with spirit via orbs, crop circles and sacred sites.
Learning Objectives:
To iscover a new phenomenon at the edge of our understanding,

To learn how planetary magnetics resonance are involved with manifestation, and
To discover why the strategic location and design of a room or a building can have a profound effect on the forces and actions inside it.