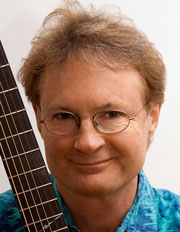 Greg Tamblyn
Greg Tamblyn, (Transformational Humorist ~ Musical Laf-ologist)
If laughter is the best medicine and music is the universal language, award-winning speaker-humorist-singer-songwriter Greg Tamblyn has a license to heal anywhere in the world. Greg combines outstanding audience rapport with an irreverent sense of humor. He captivates audiences with a wealth of powerful material about the relationship of lifestyle, music, and laughter to effectiveness and wellness.

Greg's songs are used by coaches, counselors and corporate trainers worldwide. They range from inspiring true stories about the power of the human spirit, Stand Like Mountain, Move Like Water, to off-the-wall send-ups of modern life, like Analog Brain In A Digital World, Self-Employment Made Harder By Difficult Boss, and The Top 10 Whiny Victim Love Songs.

Greg's humorous look at relationships, Common Side Effects Include, recently won the Humor category top honors in the Just Plain Folks Music Awards, out of over 140,000 songs submitted. His new book, Atilla The Gate Agent, inspired Larry Dossey to call Greg "a contemporary Mark Twain." His keynote concerts promise laughter and empowering insights with warmth and inspiration.
COMEDY KEYNOTE CONCERT: A MUSING MUSICAL MYSTIC
8:00 pm to 10:00 pm - Monday, March 30
Did you know that amusement is a very high vibration? Or maybe
it's just that getting high is amusing. Either way, we'll experience
laughter, love, and a healthy dose of conscious, hilarious music.
It's Greg's preferred pathway to "Now Myself."
ADVISORY: Greg's songs contain anti-depressive lyrics!