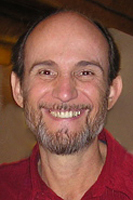 James Berry
Born in India, James Berry came to New Mexico soon after college and briefly ran an organic farm. Long dedicated to recycling, and to living consciously on the planet, Berry went to Pennsylvania and established Natural Products Corporation. NPC, a wholesale herbal and home fragrance company, utilized recycled raw materials in its production process. Berry sold the million-dollar company in 1991.
James Berry returned to Santa Fe in 1991 and, shortly thereafter, founded The Message Company to publish books focusing on the new field of science and consciousness.
In 1994, Berry participated in a marketing conference held on a cruise ship in the Caribbean. During that conference, he had the idea of creating a conference on spirituality in business. In 1995, The First International Conference on Spirituality in Business was held in Mexico. After the third year, this conference evolved into The International Conference on Business and Consciousness. This conference was produced for eight years.
In 1997, The Message Company began publishing Business Spirit Journal: The Journal of Spirit at Work in Business. Two years later, the journal became Business Spirit Journal Online, a free online journal accessed through the company's website at www.bizspirit.com.
Taking a cue from its early focus on publishing science and consciousness books, The Message Company began The International Conference on Science and Consciousness in 1999. This conference has proved to be a highly popular sellout event.
In 2001, The International Conference on Altered States of Consciousness, a spin-off of the Science and Consciousness Conference, was offered for the first time.
In 2003, The Message Company produced The Marketing Conference for Artists and Craftspeople to assist creative people in their marketing.
n 2004, The Message Company also produced The International Conference on Shamanism, The International Conference of Enlightenment, and The International Conference on Sacred Sexuality, which continue to take place in Santa Fe, New Mexico, USA.
All of these consciousness conferences are gatherings of incredible people from all over the world where as much can happen outside of the formal sessions as during them. Because a common ground has already been established, people are able to connect at a deeper level. These conferences are an example of the remarkable opportunities that can open up when people engage with both their heart and their mind.
In 2004, The Message Company also launched Diversified Investments which offers diversified, safe, secure and guaranteed investments. This program has recently been renamed Wholesale Investment.
The Visionary DVD Club was also launched in 2004, offering the insight, vision and wisdom of the world's leading-edge thinkers, researchers, explorers and visionaries in the areas of Healing, Science and Consciousness, Sacred Sexuality, Enlightenment, Shamanism and Psychology.
The Visionary Audio and Video Online Catalog also became accessible in 2004 offering programs filled with practical wisdom, keen intellect and a savvy understanding of the human condition.
The Message Company is now the world's largest producer of programs on cutting-edge, mind-expanding subjects. Join us on the greatest adventure of all time — the exploration of consciousness itself.
The conferences continue annually.
On September 23, 2008 James Berry passed on into higher consciousness.  The Message Company's vision will continue and expand as Ken and Marcia Berry take over leadership.